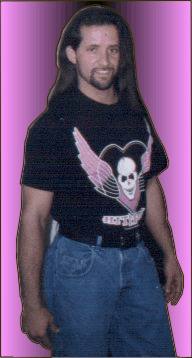 The Story
For those of you that don't know him, that's first name Cham, last name Pain. Because when you get into the ring with him, it's all pain...and no gain. he's a former male exotic dancer from Las Vegas Nevada who traded his g-string for a wrestling ring, and never looked back. He's been around the world twice, seen everything but the wind, and been everywhere but the electric chair. He's beaten men from Terre Haute to Timbuktu. He's driven backwards through hell in a gasoline truck wearing thermal underwear and drinking hot chocolate with his hair on fire, and stopped just long enough to ask the devil for a good heavy coat - this guy LIVES heat.
He can do anything but have a baby.
A high-flying madman with amazing quickness, speed, and surprising power for a smaller wrestler, Cham Pain has definitely made his place in the world of wrestling with countless indy appearances as well as several matches on WWF TV, and that place gets bigger every time he steps in the ring. Also a veteran of TV talk shows like Montel Williams and Sally, Cham Pain is no stranger to a microphone, and has no problem telling you so. With a lethal DDT, and a corkscrew plancha that makes Hector Garza reconsider training camp, Cham Pain is a man who ALWAYS hits his mark.



The Shoot
Another one of the very special and talented individuals that helped to define independent wrestling in the late 1990's in the various upper-echelon Carolina independents, you will meet fewer genuinely nice guys or truly dedicated professionals in or out of the ring than Cham Pain. Having established himself with legendary matches against the Hardys, Shannon Moore, Bo Dupp, Joey Abs, and others, it's truly only a matter of time before ECW, who Cham Pain has been working with lately as a manager, gives him his chance to step into their ring and shine...and there is no doubt that shine is exactly what he will no, if for no other reason than the SWANK~! clear plastic vest he wears to the ring. A little known fact about Cham Pain is that (yes, it's gonna sound unbelievable, but it's true) in addition to being an accomplished grappler and former male stripper, he's also a damn talented songwriter and rapper, having produced several independent tracks including his own entrance music.



The Pictures
Cham Pain goes up for a ride on the V-Bomb, courtesy TAFKA Venom

s-s-t-t-r-r-e-e-t-t-c-c-h-h-h
Another angle of the same shot
You wondered why they call it 'catch' wrestling? Here, Shannon - CATCH!
Shannon returns the favor in spades
Spinning heel kick from Shannon Moore
Hmmm...a Bret Hart fan, or is it just because it matches his ring gear? You decide!
This is part II of that V-Bomb above...

Cham Pain's face meets the floor at high-speed, courtesy of Joey Abs.

Hitting the SWANK~! corkscrew plancha on Joey Abs
As you can see, Cham Pain can hold his own against even the largest of competitors. God Fears Venom... but Venom fears Cham Pain.

Cham Pain holds it high and long.

One of these days, I'm gonna get a really GOOD shot of that corkscrew plancha....


Click Here for Cham Pain's "classic" OmegaPowers page!