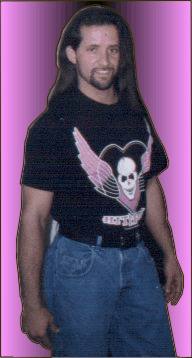 For those of you that don't know him, that's first name Cham, last name Pain. Because when you get into the ring with him, it's all pain...and no gain. He's been around the world twice, seen everything but the wind, and been everywhere but the electric chair. He's beaten men from Terre Haute to Timbuktu. He's driven backwards through hell in a gasoline truck wearing thermal underwear and drinking hot chocolate with his hair on fire, and stopped just long enough to ask the devil for a good heavy coat - this guy LIVES heat.
He can do anything but have a baby.


A high-flying madman with amazing quickness, speed, and surprising power for a smaller wrestler, Cham Pain has definitely made his place in the world of wrestling with countless indy appearances as well as several matches on WWF TV, and that place gets bigger every time he steps in the ring. Also a veteran of TV talk shows like Montel Williams and Sally, Cham Pain is no stranger to a microphone, and has no problem telling you so. With a lethal DDT, and a corkscrew plancha that makes Hector Garza reconsider training camp, Cham Pain is a man who ALWAYS hits his mark.


Hitting the SWANK~! corkscrew plancha on Venom

Cham Pain's face meets the floor at high-speed, courtesy of Venom.

As you can see, Cham Pain can hold his own against even the largest of competitors. God Fears Venom... but Venom fears Cham Pain.
You wondered why they call it 'catch' wrestling? Here, Shannon - CATCH!

Cham Pain holds it high and long.

s-s-t-t-r-r-e-e-t-t-c-c-h-h-h

One of these days, I'm gonna get a really GOOD shot of that corkscrew plancha....