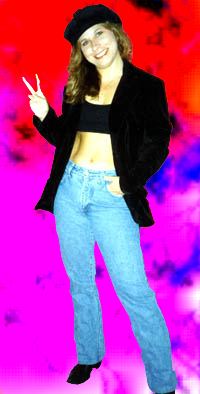 Lexie Fyfe, the Foxy Lady, is NOT what most people think of as the typical female pro-wrestler in the US today. No silicone. No Playboy spreads. No T&A show. Just good, old-fashioned wrestling skill. She's not here to promote puppy love, she's here to kick ass and take names...and she's damn good at it. In her own words: "I'd like to bring the "wrestling" part back into women's wrestling. I think that things have gotten pretty out of hand with all the T&A shows that are being put on today. I've said this before- I know that sex sells but don't call it wrestling. There are plenty of gorgeous women wrestlers out there who not only look great but can wrestle better than a lot of the guys. I just wish that someone would give us the chance to prove ourselves."



Now wrestling in her fifth year, Lexie has trained with some of the best in the business, including Matt and Jeff Hardy, Venom, Cham Pain, Johnny Rodz, and many others, including stops at BoneBreakers and PowerSlam's wrestling schools. She's held various women's titles all over the US indies (UWA (Va), Intercontinental and Tag titles for LAW, and the FSA (Fl) Women's title, to name a few...she adds, 'there jsut aren't that many women's titles in the US'), and will be touring Europe in June and July of this year.



When asked about her influences in the ring, Lexie gets kind of vague...not because she doesn't have any, but because there are so many. 'I've been watching a lot of RVD and Jerry Lynn lately...modifying things I see in their matches,' she says. 'I like a lot of the cruiserweights- not necessarily the Luchas but Kidman, Chris Jericho and Rey Mysterio. I really can't narrow it down. In fact, I want to add more but I'd take up a whole website with it. I watch all the wrestling that I can and the things that I see that I like I try to incorporate into my matches. I also try things out in training to give myself my own style.' From this writer's perspective, she's done an admirable job; Lexie Fyfe *is* her own woman, and her own wrestler.
Unfortunately, the only original picture I have of Lexie includes this big goof standing next to her....luckily, she's allowed us to use some pics from her site...
Lexie takes Brandi Wine for the ride of a lifetime
Lita gets in a lucky shot...
...and pays the price, as Lexie gets the 1-2-3

Visit Lexie's Classic OmegaPowers page here