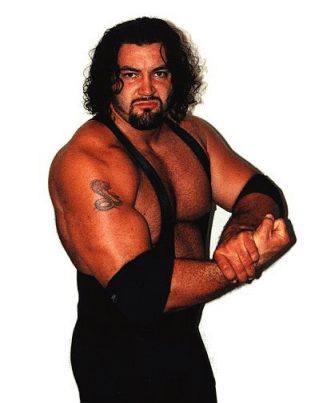 The Story
Isn't it amazing what a little money will do?
The man you see above used to be known as Venom. Wrestling in the indies and making a name for himself, he quickly became known on the 'underground' independent wrestling scene as simply the best 'big' man to come down the pike in a long, long time. Holder of innumerable independent titles, with great skills, an ability to work in any style, incredible ring presence and a great grasp of psychology, most fans looked forward to seeing Venom tear his way through whatever promotion was smart enough to hire him.
He even got some wins on WWF TV, in the pre-Shane days, over Ahmed Johnson and a fella called the "Ringmaster." That fella is now known to the world as "Stone Cold" Steve Austin™.
Enter Shane McMahon
Shane had been pushing to put his friends from Greenwich, the Mean Street Posse™, over in the WWF. Gang attacks, underhanded tactics, and basically cheating were the hallmark of these spoiled yuppies-turned-wrestlers.
Then Shane McMahon found out that a casual acquaintance from long ago in a private Greenwich Village school (before he moved to central North Carolina), Jason, had become this awesome force in indy wrestling known as Venom, and was even wrestling right under his nose on occasion.
A phone call was made. A deal was struck. Several thousand dollars in sweater-vests were purchased, and suddenly the destroyer of independent wrestlers all over the map became the suave, laid-back, GQ Joey Abs™. Hustling with Rodney and Pete Gas, Joey Abs quickly gained notoriety as the "real wrestler" of the Mean Street Posse. Unfortunately for Joey, in turning from a wrestler into a debutante, he forgot how to fight and has grown accustomed to a "cheat-to-win" philosophy with the Posse. He's had his ankle Pillmanized by Test, when that wrestler was pursuing Shane's sister Stephanie (who Joey once dated), and she even slapped him around a bit at one time, although that heat seems to have been put to the past. he's been involved in some rather sordid dealings with Terri Runnels. The list just goes on and on. After turning on, and then being convinced to rejoin, Shane McMahon, it's anyone's guess what the Posse and Joey Abs will do next, but of late their focus seems to be beating the hell out of Crash Holly any chance they get in pursuit of the coveted WWF Hardcore Title™. Maybe Joey will remember his unrequited affection for Stephanie (now Mrs. HHH) and take HHH out for a while. Maybe he'll forget about her entirely and move on to new challenges. Maybe he'll get sick of the sweater vests and dump those Mean Street Posse chumps and get back to doing what he does best, kicking major ass.
But one thing is certain.
Power Corrupts
And ABSolute Power corrupts ABSolutely.
Our best wishes to Joey in his future endeavors.

The Shoot
Jason Ahrndt has been wrestling for years, starting out in various southeastern promotions and quickly becoming recognized as one of the best in his field. From working lucha-style matches against Toad, to taking on powerhouses like Mike Maverick and Jeff Hardy, and even shooting a bit with 14-time marine corps wrestling champion Craig 'Pitbull' Pittman, "Venom" and his "V-bomb" were a major force in independent wrestling until Jason began working fulltime for the WWF. Jason hasn't forgotten his roots, and is still known for showing up incognito as a fan to watch matches in the feds he started in back in North Carolina. Nothing funnier than watching a 5'2" long-haired biker try and start a fight with the 6'3", 320-pound Ahrndt. Talk about a death wish...
Jason is known to his friends and close acquaintances as a soft-spoken, funny, very generous and pleasant person to be around, who always has time to shake a fan's hand or sign a few autographs for the kids. Although traveling 24/7 now for the WWF, he never fails to make time to talk for a few minutes on the phone to an old friend that calls, and seems to have never developed that 'rock star' attitude that so many people get when they hit the bigtime. Underneath that sweater-vest, Jason Ahrndt remains a good friend and a good man.

The Pics
Would you want to meet this man in a dark alley?
It's true. God Fears Venom.
Venom takes Bo Dupp to school
Cham Pain goes up for the ride...
...and comes crashing down. The V-Bomb. Fear it.
Venom pulls a page out of the Bollea Wrestling Book with the BACK RAKE o' DOOOOM!
Cham Pain gets a little revenge with a nice corkscrew plancha
Gotta keep the hair out of the eyes...
Venom ponders exactly which method he will used to beat the holy living goodness out of his poor opponent
Venom being accompanied by the Dark Half of the OMEGA booking team, Thomas Simpson
Like Jerry Lawler before him, when the straps come down, you just KNOW someone is leaving on a stretcher
These are the coolest tights in the history of our sport.
WWF Sunday Night Heat
U. S. Broadcast 04 July 1999
WWF RAW is WAR
U.S. Broadcast 05 Jul 1999
Click here to visit Jason's 'classic' OmegaPowers page