The Official OmegaPowers Web Community
In the coming weeks and months, you will see these little graphics appearing on various sites all over the web. This is our way of letting the fans know that we consider these sites legit and worth your valuable time. These graphics are not given to just any site that has one of our names on it, but only to those sites that either officially represent one of us, one of our dear friends, or someone that has been instrumental in helping spread the OmegaWord across the world. If you think that you should have one of these graphics, and you don't, please contact us through the feedback page and let us know.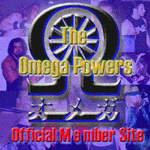 The OmegaPowers Official Member Site - you will ONLY see this graphic on official OmegaPowers Members websites.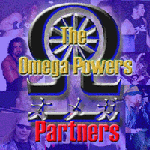 The OmegaPowers Partners - this graphic will be found on websites of federations that we have worked for and/or other people who, while not necessarily personally affiliated with us, have given invaluable assistance to us in one way or another, including other 'fan' sites.
OmegaFriends - this is the one you will see on the pages of our close friends, people we have worked with and known over the years, people who, one way or another, are close to us and who we are in AND out of the ring.
As with all graphics on this site, these are embedded with Digimarc™ digital copyright watermarks, and may not be used without permission. Please respect our work. Thank you.
PLEASE NOTE:
Some of the links below may be dead - if you find a dead link, PLEASE LET US KNOW! There are some great sites out there that relate to the OmegaPowers that I haven't added yet. If you see one we've missed, PLEASE LET US KNOW! Just go to the Feedback Page, fill out the form, and hit the send button. Thank you!
Official Sites
These are the "official" websites of the various OmegaPowers. Fan sites, fed sites, and others are located below
C.W. Anderson - The official C.W. Anderson Website - Pictures, upcoming show information, interviews
Bo Dupp - official site, although at last check, it hadn't been updated in a while.
Lexie Fyfe Foxy Lady Professional Wrestler - official site
The Official Homepage of the Hardy Boys put together by Yekaterina Russell, with graphic design by Memery Miller. Make no mistake, this is the OFFICIAL Hardy Boyz site, and is updated almost daily with writings from Matt and Jeff, pictures, poetry and songs written by Jeff, and all sorts of other goodies.
Shane Helms - His official site, created and maintained by the man himself. If you want to know what's REALLY happening with the Sugarman, forget the online 'news' sites and the dirtsheets - go directly to the source.
Joey Matthews and Christian York (not open yet)- their official site. This one is just getting off the ground, I expect it to improve as time goes by. When the site officialy opens, I will adjust the hyperlink
The Mean Street Posse - the official site of the Mean Street Posse, featuring Joey Abs and a coupla jobbers ;-) Seriously, Rodney and Pete have done well for themselves, too...but Joey is da man!
Shannon Moore - His official site.
Frog - his Official site.
Serial Thrillaz - official site. Although the Thrillaz are now among the ranks of "legendary former tag teams," since "Sugar" Shane Helms is now working with Shannon Moore as part of 3-Count in ECW, and Mike Maverick is now Jack Dupp, working in the WWF with Bo, this site is still up, and it's a great look at one of the greatest tag teams that most fans are only lucky enough to see on underground SCW and OMEGA tapes.
John Henry's Site - the personal website of John Henry, ring announcer extraordinaire, manager par excellence, internet personality that you just can't ignore, and the world's luckiest mark. Includes some great humorous posts from the usenet newsgroup rec.sport.pro-wrestling, some great personal information and photos, and all sorts of other minutae and triviata
OmegaFriends Sites
These are sites that have some personal connection to the OmegaPowers - sites of wrestlers and others that hold special places in one of all of our hearts, sites of people that have helped us out with constructing this site, etc
Powerbomb.com - currently remodeling. Former home of the official OMEGA Federation site, as well as the only place on the web to get 'Tributes,' a collection of eulogies and memories of wrestlers that are no longer with us, from the editors of the Pro Wrestling Torch. Site administered by Ted Hobgood, Honorary OmegaPower, longtime friend of many of us, and he has some weird relationship with the OMEGA ring announcer, Scott Sullivan that I refuse to speculate on in public. I've also heard rumors that he has a thing for jobbing to snowmen, but again, this is just a rumor.
OMEGA (The Organization of Modern Extreme Grappling Arts) is, of course, the place that inspired the name 'OmegaPowers' for this merry little band of hooligans, and the webmaster is eternally grateful to them for not suing the pants off of him ;-) Ted also designed (and owns the trademark on) the OMEGA logos that I have modified and incorporated into this site, and I am forever indebted to him for licensing it to me to use here. Now if I can just talk him into letting me make t-shirts, we can make some money on dis biznitch ;-)
Edge 6:32 - Double the Man - easily the best site devoted to Edge on the web, outside of wwf.com. Administered by the one person on the planet that can keep John Henry somewhat sane, Chick, and she even let him draw some pictures for it. Updated often, message board, great pictures, etc. etc. If JH ever finds his smile, he'll probably find it somewhere near here
Scab - His official site. Incredible multi-stylistic performer with appearances all over the east cost, has mad many memorable matches with several of the OmegaPowers
Natrone Steele - his official site. Natrone is works more a hardcore style than scab, and you can see some pictures of his great matches against Frog on frog's page.
The Official Unofficial PUSH THE HARDY BOYZ website put together by Memery Miller, who happens to be just about the best graphic designer out there. She also did the super-killer and maddeningly nifty opening logo for this site.
The Lovely Lita - the Official Website of Amy Dumas, formerly 'Angelica' (pics of her match with Lexie for SCW are on Lexie's page) and 'Miss Congeniality' in ECW, now known as the lovely latina Lita in the WWF. A good friend of many of the OmegaPowers, and a real sweetheart underneath all that asskicking exterior.
The Official Homepage of Lodi - Lodi (now known as Rave) worked with a lot of us in the early days in the Carolina indies, as well as being Frog's tag partner in Dangerous Minds, many years ago. A great guy with a heart of gold and a mind of mush ;-), we know that Lodi is always a true friend
The Loose Canons - a great little wrestling e-zine that's not quite like anything else out there. First off, becuase it's written by wrestling *fans*, rather than self-styled 'smarts,' and second of all because they have John Henry as a columnist, which no other newsletter can claim. Check 'em out - it's worth it.
Whoo! Wrestling - former home of the other official OMEGA website, you can order tapes of past OMEGA shows here. Also a great resource for independent wrestling all over the country.
U.S. Independent Wrestling Promotions - the most comprehensive list of independent wrestling federations on the web, brought to you by the New Cheetah Order
WWF Snapshots - this is the sweet, sweet girl that's hooked me up with all these screen captures from RAW and HEAT. If you're looking for a snapshot from a WWF TV show, this is the place.
Federation and Other Sites
Sites for various promotions that the OmegaPowers either work for, or have worked for, fan sites constructed for the OmegaPowers members by fans, etc.
MUSIC CITY WRESTLING - a/k/a NWA Worldwide. Home of the Bad Street Boys.

ECW WRESTLING - the House of Hardcore. OmegaPower C.W. Anderson has recently started working for ECW

WCW WRESTLING - Home of OmegaPowers Shane Helms, Shannon Moore, OPBudRave (thanks for the signs, brah!), and a couple of other jabrones named Hogan, Nash, and Flair ;-)

WWF WRESTLING - Home of the Hardy Boyz, Jason Ahrndt, and others

World Wrestling Organization - great indy fed based in North Carolina

Southern Championship Wrestling- SCW Homepage - SCW is a fed that all the OPs have worked in at one time or another - John Henry was the ring announcer, Matt and Jeff have been Tag champs, Bo, Frog, C.W., Joey Abs, Joey Matthews, Christian York, Shane Helms, Mike Maverick, Shannon Moore, have all held belts here, and make appeareances at least once every couple of months.

The Unofficial Southern Championship Wrestling Website - Maintained and regularly updated by Wicked Walt, who is also responsible for several of the pictures on this site, either taken on his own, or holding the webmaster's camera and having it violently taken from him by a really mean technological advisor ;-)